Chvrches (pronounced as "churches" and stylised as CHVRCH?S) are a Scottish synth-pop band from Glasgow, formed in September 2011. The band consists of Lauren Mayberry (lead vocals, drums, additional synthesisers, samplers), Iain Cook (synthesisers, guitar, bass, vocals) and Martin Doherty (synthesisers, samplers, vocals). Mostly deriving from the synthpop genre, Chvrches also incorporates indietronica, indie pop, and electronic dance into their sound.
Two years after their formation, Chvrches released Recover EP in March 2013, which included hits "The Mother We Share" and "Recover". Their debut studio album, The Bones of What You Believe, was released later on 20 September 2013, while the band was ranked fifth on the Sound of 2013 list by BBC. Two years later, on 25 September 2015, the group released their second album, Every Open Eye.
History
Beginnings (2011-12)
Before Chvrches, Iain Cook was a member of Aereogramme and The Unwinding Hours. He also wrote music for film and TV. Martin Doherty was a live member of The Twilight Sad. According to Mayberry, "Iain and Martin went to university together so they've known each other for quite a long time."
Mayberry completed a four-year law degree followed by a Masters in Journalism. This led her into a career in freelance journalism for several years prior to music. She has played piano since childhood and drums since she was a teenager. From age 15 until 22, she played drums in various bands. Before Chvrches, Mayberry was a member of two local bands, Boyfriend/Girlfriend and Blue Sky Archives. In the latter band she was the vocalist, drummer, and keyboardist.
Cook was producing an EP for Blue Sky Archives on a weekend in September 2011. Cook started a new project with Doherty and asked Mayberry to sing on a couple of demos. They wrote together for seven or eight months in a basement studio in Glasgow. Cook, Mayberry and Doherty decided to form a new band after the sessions proved to be successful. They chose the name Chvrches, using a Roman "v" to avoid confusions with actual churches on internet searches. Chvrches have also stated that the band name "has no religious connotation, [they] just thought it sounded cool". The name is normally stylised in all capital letters.
On 11 May 2012, Chvrches premiered the song "Lies" which was available exclusively as a free download from the blog of the Neon Gold label. On 5 November 2012 the band released their official debut single, "The Mother We Share".
In June 2012 The Guardian featured Chvrches as one of New Bands of the Day.
Prior to their first official gig as Chvrches on 5 July 2012 at The Artschool Glasgow, Scotland, the band performed a pair of "secret shows" under the pseudonym "Shark Week". In an interview with NME at the Austin City Limits Music Festival, Mayberry and Doherty explained that, since they were just starting to gain fame, they were "concerned about failing spectacularly", so they performed two shows as Shark Week so they "could suck and then get better", with the expectation that by the time they played their first official gig as Chvrches, they would have worked out the kinks. Mayberry also explained that she normally doesn't drink before shows, but that they "definitely did tequila slammers before [the first official] gig."
"Lies" ranked at number 28 on NME's Best Tracks of 2012. "The Mother We Share" was ranked at number 51 on The Huffington Post 's Top 52 Songs of 2012. Chvrches ranked fifth on the BBC's Sound of 2013 list of the most promising new music talent.
Recover EP and The Bones of What You Believe (2013-14)
In January 2013 Chvrches signed with the independent label Glassnote Records. Previously, in November 2012, Daniel Glass (the owner of Glassnote) received copies of the songs "Lies" and "Recover". He also headed to the UK and watched Chvrches perform three times (two solo shows, and one opening for Passion Pit).
On 6 February 2013 Chvrches premiered the second single "Recover". It was followed by Recover EP, out on 25 March 2013 in the UK via Goodbye/Virgin and 26 March 2013 in the US via Glassnote. On 13 March 2013 Chvrches performed at SXSW. They also won the Inaugural Grulke Prize (for Developing Non-US Act) at SXSW.
On 19 June 2013 Chvrches made their US TV debut performing "The Mother We Share" on Late Night with Jimmy Fallon. On 15 July 2013 they released the single "Gun". In July 2013 Chvrches supported Depeche Mode on four shows from The Delta Machine Tour 2013. In September 2013 they also performed "The Mother We Share" on Later... with Jools Holland.
On 20 September 2013 the band released their debut studio album The Bones of What You Believe on Virgin Records. On the critical aggregator website Metacritic, the album received a score of 80, based on 39 reviews.
The song "We Sink" features on the official soundtrack of FIFA 14, the video game published by EA Sports.
On 30 September 2013 Mayberry penned an op-ed piece in The Guardian on the sexist remarks directed towards her through the band's social media sites.
Chvrches covered Bauhaus' song "'Bela Lugosi's Dead"' for the ending credits of the movie Vampire Academy: Blood Sisters. "The Mother We Share" was featured in the opening video for the 2014 Commonwealth Games Opening Ceremony in Glasgow, Scotland, on 23 July 2014.
Every Open Eye (2015-2017)
The band started recording their second album in January 2015, and on 5 June 2015 announced they had completed work on it. Recording was conducted in the same Glasgow facility used for The Bones, which received a major upgrade to recording gear and an increase in the instrumental variety for the second album.
On 16 July 2015, the band revealed the release date, cover art and track listing for the new album, entitled Every Open Eye. The following day they released the album's first single, "Leave a Trace". The album was released on 25 September 2015.
On 12 August 2015, the second single "Never Ending Circles" was released on YouTube, and on 10 September 2015 the third single "Clearest Blue" was also released on YouTube. On 19 October 2015, the fourth single "Empty Threat" was released. The music video was revealed on 20 November 2015 through YouTube.
Avatars of the band and their songs "Clearest Blue" and "Leave a Trace" were featured in the 2016 video game "LOUD on Planet X".
Chvrches and Solar Fields penned the original song "Warning Call" for the 2016 video game Mirror's Edge Catalyst. The theme song was released on 13 May 2016.
In June 2016, the band released the fifth and final single "Bury It", a new version featuring Hayley Williams. The music video for the song was illustrated by Jamie Mckelvie and features the three band members joined by Hayley demonstrating some telekinetic powers.
The songs "Clearest Blue" and "Bury It" are featured on the soundtrack of the 2016 racing video game Forza Horizon 3.
Third studio album (2017-present)
Chvrches began work on their third album in February 2017 in Los Angeles, California. On 24 February, Dave Stewart of Eurythmics posted on Twitter that he was in the studio working with the band. On 12 December, it was announced that Greg Kurstin had produced the album, and that work on the project was nearing completion. On 1 January 2018, Doherty confirmed that the album would be released in 2018.
Musical style
Known for their clean sound, Chvrches' music style is usually tagged as electronic or synthpop. Neon Gold described their sound as "a godless hurricane of kinetic pop energy". Kitty Empire of The Observer wrote they "make accessible electro-pop that's only just short of truly brilliant". Wired noted following Every Open Eye's release that the album "cements the group as today's heir apparent to Depeche Mode, New Order, and other titans of British electronic music."
They are influenced by acts such as Madonna, Eurythmics, Throbbing Gristle, Prince, Tubeway Army, Robyn, Laurie Anderson, Depeche Mode, Kate Bush, Cocteau Twins, Death Cab for Cutie, Orchestral Manoeuvres in the Dark, Cyndi Lauper, Whitney Houston and Elliott Smith. The band writes, records, mixes, and masters their songs in a basement studio in Glasgow.
Touring
When Chvrches plays live, Mayberry performs lead vocals and occasionally plays synthesisers and samplers. She also played drums as a part of their second album tour as seen in "Playing Dead", "Empty Threat", and "Under the Tide"; Cook plays synthesisers, guitar, bass, and also performs backing vocals; Doherty plays synthesisers and samplers, and also performs backing vocals and sometimes lead vocals.
Chvrches tour globally and are active in the festival circuit, including Firefly Music Festival, SXSW, Music Midtown, Field Day, Canadian Music Fest, Sasquatch! Music Festival, The Great Escape, Longitude, Pitch Festival, Thrival Festival, T in the Park, Electric Picnic, Melt! Festival, Summer Sonic, Pukkelpop, Lowlands, Reading and Leeds Festival, Coachella, Osheaga, the V Festival, Lollapalooza, Sziget Festival,Bonnaroo, and Glastonbury.
Chvrches was the opening act for Discopolis, Chew Lips, School of Seven Bells, Passion Pit, Two Door Cinema Club. They also supported Depeche Mode during their The Delta Machine Tour 2013 at Nîmes (16 July), Milan (18 July), Prague (23 July), and Warsaw (25 July).
Some of the artists that opened for Chvrches were Dan Croll, MØ, Isaac Delusion, Mansionair, Young Fathers, Arthur Beatrice, Conquering Animal Sound, Still Corners, City Calm Down, XXYYXX, Basecamp, THUMPERS, and The Range.
On 3 December 2015, Chvrches performed Leave a Trace at The Game Awards 2015 in Los Angeles, California, where they also announced the nominees for and winner of best indie game.
The band played the Bonnaroo Music and Arts Festival, June 2016, in Tennessee and Flow Festival, mid-August 2016, in Helsinki, Finland.
Discography
The Bones of What You Believe (2013)
Every Open Eye (2015)
Awards and nominations
Media usage
References
External links
Top Tracks
1
The Mother We Share
2
Recover
3
Gun
4
We Sink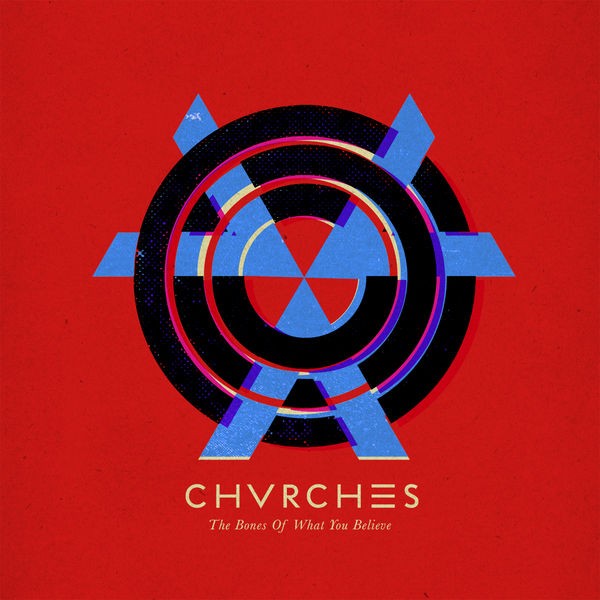 5
Lies
6
Tether
7
Night Sky
8
Leave a Trace
9
Under the Tide
10
Lungs
Top Albums
The Bones of What You Believe
tracks
The Bones of What You Believe (Special Edition)
tracks